Do you a remarkable tweet last six months about how to get twitter followers? Or a memorable tweet for your special someone perhaps? Do you want to read them at this moment? In www.twitter.com user are not allowed to view tweets older than ten days, unless you are a creative tweeter. Good to know that there are other sites that not just provide how to get twitter followers tips but also way how to view old tweets. In fact, you can even download their services to search beyond twitter history.
Here are some of them:
1. TwimeMachine
This is one of the simpler ways to read your old tweets once you are signed in on twitter, TwimeMachine will pull your old tweets in a single page. The tweets are arranged in a revers chronological order, meaning from the most recent to the older entries. More than this, TwimeMachine can't do anything; in fact, it is only allowed displaying 3,200 tweets.
2. Snap Bird
Snap bird is considered as a powerful tool to search tweet history. With snap bird, it is possible for you to view your older tweets since from the day you start using twitter. To view old tweets, you only have to enter your twitter username and leave the search term blank to get Snap Bird to pull up all the tweets. At first, you will get 200 tweets, and you can continue 200 more at a time.
Snap bird not just tracked old tweets, but it is also capable in searching people favorites, your friend's tweets, the tweets that you mention, the messages you sent and received.
3. Tweet Scan
Tweet scan is capable of tracking your tweets back in December 2007. You can also choose to view just your old tweets or include @replies, friend's tweets, your follower's tweets, direct messages and your favorite tweets.
4. BackTweets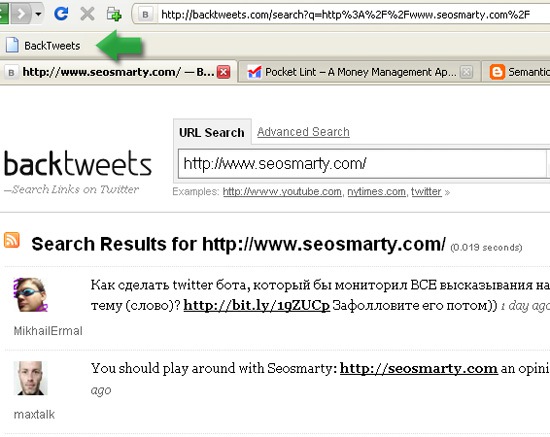 If you want to search tweets with links on how to get more followers on twitter BackTweets can do it for you. For free account, you don't need to register. You can search tweets with links even back in two years.
5. FriendFeed
Lots of people synced their tweets to FriendFeed so it is possible to search and find some old tweets. With FriendFeed, you can use an advanced search to specify the search terms; however you are not given an authority to filter the results by Twitter.
6. Topsy
Using Topsy you can search tweets back in two years. Using the advanced research you can search tweets in a particular time, with or without keywords. You can also filter them by hour, past day, past 5 days etc. Topsy is also capable in searching tweets with links, photos, and any items that mention your tweets.
Aside from these services, the most accessible place to search old items is the search engine like Google, Yahoo and Bing, provided that you know a certain and the most specific keyword about your tweets months ago for a more specific results.
Tags:
how to get twitter followers
,
twitter marketing