Twitter has rolled out some sort of new feature in their real time search results. This new feature is going to show direct links as the top news or a direct link from top profiles of people that are placed in search results. This seems to be different from a top tweet because the new search shows only the tweeter's image and their link. Since twitter is a one giant advertising platform anyway, I can see now how easy it will be to get more twitter followers and website traffic by purchasing search placement with the link in place. The new search feature is now available to all Twitter users and some of them are already feeling the advantage of these features.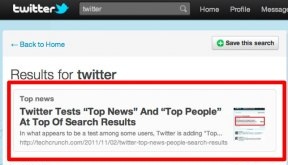 When this feature was on test Twitter had been pretty much excited about how this new feature would leverage the most relevant finds. This will give the advertisers more options and decisions to improve on their strategies on marketing their products as well. Do they want to pay for search placement with the links or would they settle back to paid tweets? How exactly does it roll? If a user is looking for a specific person or group of people, their profile appears in a box with a link and shows up with the other top people in the search results. In the case of a phrase, instead of showing tweets, they just show a link. Therefore, if the searched person is not on the top list, you will have to find him/her below all the linked results. In other words, Twitter rolled out a paid search placement wherein we don't see the tweet but a bunch of top links instead.
This new function could help publishers generate more traffic to their websites highlighting their links. So instead of highlighting an actual tweet, we are going to be infiltrated with top links before even seeing a tweet. I know of one such company that implemented a similar campaign. Do you know where they are now? I am talking about Digg that had pulled this same tactic and eventually lost an abundant amount of users, advertisers, as well as traffic. Now they are no where on the top lists of social sites. Hopefully, Twitter won't end up like Digg.
It is not clear whether this new development is going to get more twitter followers for most tweeps or not, but one thing is for sure the spammers are jumping up and down in joy over this. If their spammy tweets make it as a top tweet in searches, it will just be a direct link which only encourages them to spam more. In my opinion with this kind of feature, it is like Twitter is not only opening more avenues to advertisers but spammers as well. In fact, this favors the two more than it does the real twitter community. This whole thing is just to provide advertisers more choices in their ad campaign. That is fine. However, let us hope that Twitter has done a spam cleanup before this new feature was opened to the public.
Tags:
Get more twitter followers
,
twitter marketing